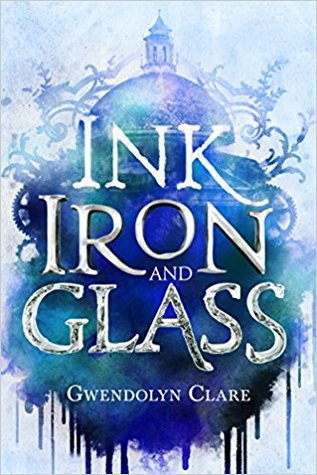 Title: "Ink, Iron, and Glass" (#1, Ink, Iron, and Glass)
Author: Gwendolyn Clare
Publisher: Macmillan/Imprint
Release Date: Feb. 20, 2018
Pages: N/A
Copy: e-ARC
Find It: Goodreads| Amazon| Book Depository | B&N | iBooks | IndieBound |
---
Synopsis:

Can she write a world gone wrong?

A certain pen, a certain book, and a certain person can craft entirely new worlds through a branch of science called scriptology. Elsa comes from one such world that was written into creation, where her mother―a noted scriptologist―constantly alters and expands their reality.

But when her home is attacked and her mother kidnapped, Elsa is forced to cross into the real world and use her own scriptology gifts to find her. In an alternative Victorian Italy, Elsa finds a secret society of young scientists with a gift for mechanics, alchemy, or scriptology―and meets Leo, a gorgeous mechanist with a smart mouth and tragic past. She recruits the help of these fellow geniuses just as an assassin arrives on their doorstep.

In this thrilling debut, worlds collide as Elsa unveils a deep political conspiracy seeking to unlock the most dangerous weapon ever created―and only she can stop it. (via Goodreads).

Teaser:
Curtly, Elsa said, "By 'here' I meant Earth, which I'm certain you understood."
His eyes softened, a silent apology.
"Of course. This tongue has a nasty habit of turning everything into a jest, I'm afraid."
"Why?" she said, morbidly curious. "Is it… some sort of experiement?"
"An experimental replacement tongue? Sadly, no – it's the one I was born with. Though perhaps it would be wise to pursue an alternative, since this one simply refuses to behave itself."

About Gwendolyn Clare
Gwendolyn Clare writes science fiction and fantasy. Her debut novel — INK, IRON, AND GLASS — is the first in a steampunk duology about a young mad scientist with the ability to write new worlds into existence, forthcoming from Macmillan/Imprint in 2018. Her short stories have appeared in Clarkesworld, Asimov's, Analog, and Beneath Ceaseless Skies, among others, and her poetry has been nominated for the Rhysling Award.
She holds a BA in Ecology, a BS in Geophysics, a PhD in Mycology, and swears she's done collecting acronyms. She lives in North Carolina with too many cats, too many ducks, and never enough books.